Think digital to tidy up that hodgepodge of old photos, books and DVDs.

Photographs
Some paper prints, like chlidhood photos and wedding portraits, deserve better than a shoe box in the closet. Weed out what you don't want. Sort keepers chronologically by subject (vacations, holidays) annd time period ("Jill, baby years") in folders.
>>Send your precious vintage prints to a company like ScanCafe, which will enhance colors, fix various flaws and load them onto a DVD or CD (from 22 cents per scan). You can also upload images directly to an account through Snapfish.
>>Take the DIY rout with and all-purpose printer-scanner such as the HP Officejet Pro 8600 series (www.hp.com, from $150). For an even faster solution, an app like Pic Scanner (iOS, $3 after a free trial) lets you scan pultiple prints with your smartphone and instantly create captions and albums.
STORAGE SMARTS

>>Prized prints deserve a safe place, so professional photographer Michael Kelley recommends laying photos of various sizes flat in labeled clamshell-style boxes made of acid-free paper to prevent fading. Blick archival storage boxes are good choice (from $9.75).
>>For computerized images, consider investing in the LyveHome photo and video manager ($299) to upload smartphone or tablet shots as you upload smartphone or tablet shots as you take thme. Or use the SD slot and USB port for manual transfers. LyveHome syncs your full library across multiple devices and platforms (Android, iOS and Windows PC) so that all your images are accessible from anywhere by logging in to the free companion app.
>>Another option to consider: ThisLife by Shutterfly is a new service that stores and organizes your photos (free to $139 a year, depending on your storage needs).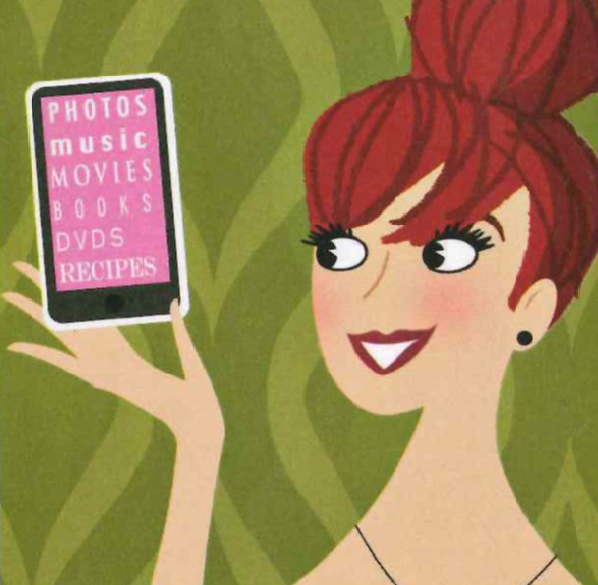 Home Movies
Unless you saved the VCR, there's no way to relive the family memories trapped on VHS tapes.
>>Send home videotapes or film reels to iMemories, and the company will enhance color and sound and upload the movies to a private account ($10 per disc, $20 per Blu-ray). Download their free app (Android, iOS) to access everything on your smartphone or tablet.
>>YesVideo offers a similar service, without color and sound enhancement, for videotapes; enhanced color is available for film reels. Drop off your videos at an affiliated retailer, like CVS or Costco, and save on shipping (about $20 for a two hour tape or first 100 feet of film).
STORAGE SMARTS
>>Once you've digitized everything, get rid of the tapes. Search earth911.com for recyclers in your area, or send them to the ACT facility in Columbia, Missouri.
CD'S & DVD'S
Between MP3 and movie and music streaming services, there's not much incentive to hang on to discs. 
>>Delegate the music task to a tech-savvy kid or FedEx CD's to a company like DMP3 Music, which will convert your tunes into audio files (from 69 cents per disc).
>>For movies, there's Vudu, a service available online and in Walmart stores that lets you keep your DVDs and Blu-rays in the cloud and watch them on various devices ($2 per disc)
STORAGE SMARTS
>>Enter barcodes from CDs, DVDs and video games you no longer want at Declutter (or scan them with the free app for Android and iOS) to find their resale value. Then ship the disks for free to the company, which will send back a check. 
>>Best Buy's trade-in program for CDs and DVDs works similarly, but earnings come loaded on a gift card.
>>Can't part with your collection? Recycle cases and transfer discs to slippered CD wallets
Books
When bookshelves hit capacity, it's time to winnow.
>>Making the switch to an e-reader, smartphone or tablet can free up space in cabinets and on nightstands, says Barbara Reich, author of Secrets of an Organized Mom.
>>If you've purchased a print book on Amazon, you may be able to buy the ebook edition at a discount from Kindle Matchbook, which has thousands of titles available.
>>A subscription to Oyster offers unlimited streaming access-think Netflix for books-to more than $500,000 titles and growing ($9.95 a month) The service on Android, iOS, Kindle and Nook can be shared on up to six devices.
STORAGE SMARTS
>>Sell unwanted volumes in good condition at a local used-book store or a virtual one like Powells Books. Just type in your books' ISBNs to find their worth (issued in cash or online credit), then ship them for free to the company's Portland, Oregon, headquarters.
>>Amazon also accepts certain used books for a gift card-check the website for details.
>>To donate, head to your nearest Goodwill or Salvation Army location or visit Donation Town, where you can choose from charities in your area and schedule a free pickup.
Recipes
Consolidate messy clippings, cards, and cookbooks in one virtual spot.
>>Use Evernote to scan paper recipes, or snap photos of them with your smart phone to save in a searchable file. You can also grabweb clippings and URLs from websites. Sort and store everything in notebooks (60 megabytes of uploads per month with unlimited storage, free; 1 gigabyte of uploads, $5 per month).
>>Capture any webpage recipe in one click, add it to Microsoft's OnNote Quick Notes (a free download), and keep a running catalog of favorite meals.
>>With BigOven, upload handwritten or typed recipes and have them converted to digital text (3 uploads with free membership or 25 for a $20-per-year premium subscription). Or type in the text yourself at no charge. An account also gives you access to a database of more than 350,000 recipes; organize the ones you like, along with any web recipes, in folders and on a meal-planning calendar.
STORAGE SMARTS
>>Make room in a kitchen cabinet for three or four cookbooks and donate the rest (see above).
For more easy tips and tricks to keep clutter at bay visit: 

familycircle.com/organizing