Our Children's Department has a new collection of parenting books, magazines, and videos in English and Spanish.
Here are just a few you may be interested in….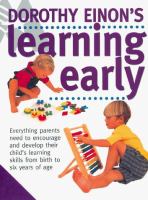 Everything parents need to encourage and develop their child's learning skills from birth to six years of age.  A child's first few years are incredibly important, for this is when they start to learn the physical, mental and social skills that continue to develop as they grow up.  Learning Early is the ideal guide for parents who want to understand the development of their child – and discover how they can help.
Allergies and Asthma: What Every Parent Needs to Know now provides updated information on allergies- including the latest findings on food allergies and treatments- along with new approaches for monitoring asthma control, with expanded recommendations for children. This second edition provides new guidance on medications, new recommendations on patient education in settings beyond the physician's office, and new advice for controlling environmental factors that can cause asthma symptoms.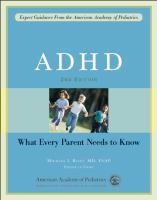 Written in clear, accessible language, this thoroughly updated second edition includes the latest information on diagnosis, ADHD medications, and guidance on on preschoolers and adolescents with ADHD. A new chapter on advocacy, updates on special education services and laws, and the role of the medical home are also featured.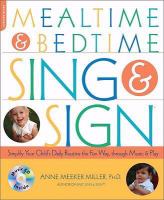 Meals and bedtimes are often lost opportunities for meaningful communication between parent and child, and can lead to confusion and frustration… but no longer. Through creative songs and fun activities, Mealtime & Bedtime Sing & Sign  shows you how to teach your baby and toddler important signed gestures – such as All-Done, Milk, and Blanket- to express what he wants and needs. Signing is a scientifically proven way to nurture a child's language, learning, and motor skills- and is ideal for easing frustration and preventing tantrums in the kitchen and the bedroom. Developed as a popular workshop by an award-winning music therapist, Mealtime & Bedtime Sing & Sign gives you the opportunity to help your child express herself- and relieve the most stressful periods of her day.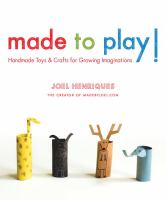 From the creative mind of Joel Henriques, the creator of madebyjoel.com, Made to Play! presents thirty-five small, simple-to-make projects with big results. From sewn and stuffed musical instruments to interlocking paper building blocks and wooden animal figurines, the projects in this book are sure to spark creative discovery, encourage open-minded play, and delight the young children in your life.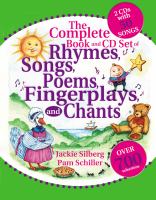 The complete book and  CD set of Rhymes, songs, poems, fingerplays, and chats gives children a variety of ways to fall in love with rhythm, rhyme, repetition, and structural sequence- important building blocks for future readers. The book contains over 700 selections to build a strong foundation in listening skills, imagination, coordination, and spatial and body awareness. The accompanying CDs feature 50 songs guaranteed to get everyone up ad moving!